If you are looking for the best Zombie board games, then you are not alone. It appears zombies have rapidly shuffled back into fashion in the last few years to become a thriving theme in nearly all forms of entertainment and media. 
Ever since The Walking Dead took comic and television world by storm, there seems to have been a horde or zombie board games finding their way to the market on almost a monthly basis. 
From quick mini-games to full scope strategic zombie board game experience, there is something for everyone to enjoy. In fact, according to BGG, there are over a thousand zombie board games out there. Most of them are old and are out of print, but a healthy bunch is still available for purchase.
To help you navigate the zombie board game maze, we have hand-picked the top 10 zombie board games. We have considered time, types of board game mechanics, difficulty and age, so rest assured – we have a pick for you. So whether you are planning a family or friends night out, get ready for the best zombie board games available on the market today.
Image

Player Count / Duration / Age / Difficulty

Top 10 Zombie Board Games

Best Overall – Dead of Winter: A Crossroads Game

Best Overall – Dead of Winter: A Crossroads Game

The most refined zombie survival board game on the market. If you like team work, collaboration and run a chance of having a traitor in your team, Dead of Winter is best zombie board game for the job.

| | | | |
| --- | --- | --- | --- |
| 2 – 5 | 60-120 Min | 12+ | Medium |

Best Cooperative – Zombicide: Black Plague

With 20+ board games and expansions in the series, you can't go wrong with Zombicide. Epic zombie killing and second to none teamwork!

| | | | |
| --- | --- | --- | --- |
| 1 – 6 | 60-180 Min | 10+ | Easy |

Best Tower Defence – Zpocalypse 2: Defend the Burbs

If you like holding positions and defending the tower from hordes of zombies Zpocalypse is the best zombie deal out there.

Best Classic – Dawn of the Zeds (Third edition)

Best Classic – Dawn of the Zeds (Third edition)

A long time tower defence classic that goes back 7 years. With the third edition out now, the game is more refined than ever.

| | | | |
| --- | --- | --- | --- |
| 1 – 4 | 90-120 Min | 12+ | Hard |

Best Competitive – Last Night on Earth: The Zombie Game

Best Competitive – Last Night on Earth: The Zombie Game

A fast paced zombie brain eating experience based on the cinematic zombie genre. One of not many games where you can play as zombies!

Best Betrayal – City of Horror

Great semi-cooperative classic zombie board game. To win, you need to negotiate, make alliances and also betray your fellow players.

Best Quick Zombie Board Game – Zombie 15′

Beautiful artwork, simple rules and loads of tension packed into a 15 minute game. One of the best zombie apocalypse board games to have for a getaway!

Best Zombie Card Game – After The Virus

The smallest zombie card game in our review. It features a classic deck building approach with a twist. Amazing solo zombie experience too!

Best Fun – Tiny Epic Zombies

With 5 different ways to play the game, it offers amazing replay value. It can be cooperative, competitive and something in between. Amazing fun, easy rules and great components deliver loads of entertainment.

Best Zombie War Game – The Walking Dead: All Out War

If one vs. one war encounter is what you are after, then The Walking Dead: All out War is the best zombie board game you can find.

| | | | |
| --- | --- | --- | --- |
| 1 – 2 | 30-120 Min | 12+ | Medium |
Best Zombie Board Games – Top 10 Review
Dead of Winter is the first board game in the series. Its innovative design has scored the board game around 12 awards and nominations.
It puts two to five players in a small and weakened colony of survivors where a majority of humanity is either diseased or turned into zombies.
Each player takes on a leading role to guide a bunch of survivors working together to achieve an objective and make it through the winter.
Dead of Winter can either be a fully or semi-cooperative. The trick is that one of the players may be a traitor with his own hidden agenda achieving which, scores him a win.  Alternatively, if all players are good guys and gals their objective is to work together as efficiently as possible towards a collective victory.
Each player, good or bad, has a personal secret objective. Mostly, secret objectives are secondary to the primary objective shared by the team, which means you need to win the teams objective to fulfill the individual one. If you are a traitor, however, your secondary goal may well be to sabotage the mission and make other players fail.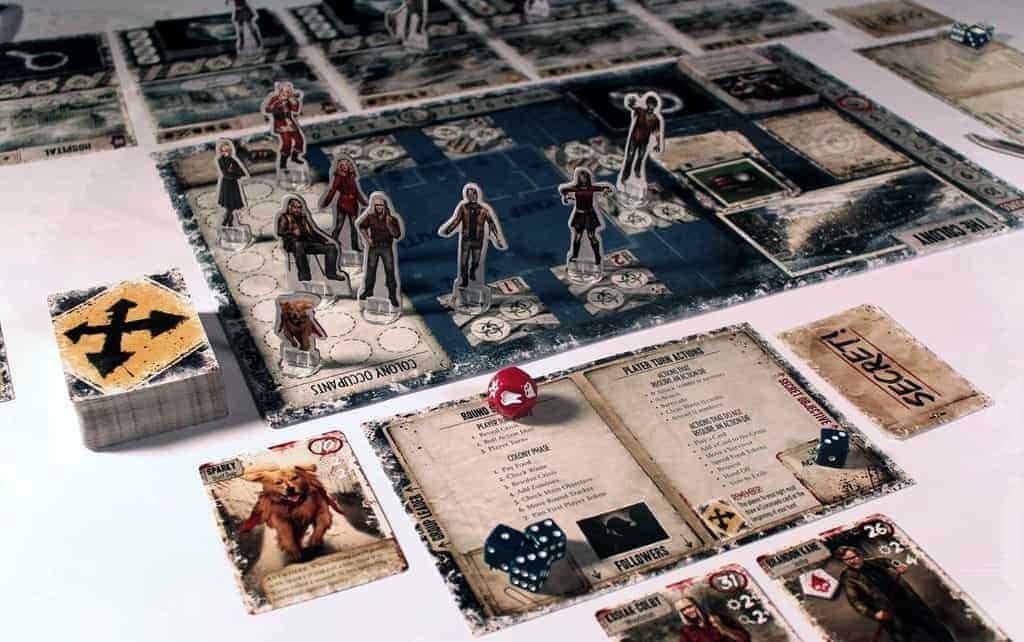 Teamwork is at heard of Dead of Winter as players need to coordinate action to make sure that action points are spent wisely. There are always more things that are required to be done than you can, so being good at working out trade-offs is an essential skill to master.
On their turns, players can choose to attack a zombie, search a location, put up a barricade, attract zombies, clean waste or use a special ability. Getting actions coordinated and timed efficiently should provide you a good chance of successes. At the same time, ad-hoc events and the possibility of having a traitor in the team add a unique twist to the winning strategy the team needs to come up with.
Expect to be faced with challenging situations where you will be compelled to make difficult, frequent, and varying decisions that will require all of you to decide what options are best for you and which ones are the best for the colony.
Bottom Line
Dead of Winter is an exciting zombie cooperative board game that takes you through the journey of surviving an apocalyptic world under harsh winter conditions. If you are up for fending off external attacks, finding food, resolving disputes, and keeping the morale of the entire colony up, Dead of Winter is one of the best zombie board game ever made.
PROS
Can have a traitor in the team!
Tense and exciting
Great strategic choices / decisions
Beautiful artwork
CONS
Can get lengthy
Can loose a friend or two being a traitor
Zombicide: Black Plague is a standalone cooperative board game that takes the zombie apocalypse into a beautiful medieval setting.
The board game packs loads of fun and supports one to six players. It brings out the relentless zombie-killing action into a new fantasy world we have not experienced before.
It features multiple fantasy races such as elves, dwarfs, humans, paladins, magicians and other straggling survivors from different walks of life.
I was not initially sure how medieval, fantasy and zombies could possibly blend together, but let me tell you that the mix works brilliantly!
The objective of Zombicide: Black Plague is to punish the evil Necromancer overlords for bringing the world to an end, but to get there you have to go through the hordes of zombies first.
To help you survive dark times, your characters can wield crossbows, make powerful swords, and cast magic spells. To improve your defense rating, you can arm your survivor with shields and chain mail armor. Additionally, you can pick up spell books to carry out fantastic enchantments, or light up a dragon pool to come up with an all-consuming dragon fire!

While the rules have been slightly revamped for this latest incarnation, the core principle has remained intact. The board game is still full of nonstop action, tense atmosphere and loads of fun!
The game incorporates some of the light RPG mechanics as it allows you to enhance your character and gain experience as you go. Experience allows you to up-skill your characters to become more powerful, however, the increased number of zombies over time seems to balance it out nicely.
Go ahead and take on the zombie invasion from secret vaults to medieval streets. Pursue the elusive Necromancers to prevent them from multiplying. Take a whole new set of missions whereby your group of survivors will emerge the heroes of the land or the last survivors of the zombie massacre.
Alternatively, if you prefer fighting orcs a little more, check out the sequel Zombicide: Green Horde in the series which we've reviewed as part of the best coop board games shootout.
Bottom Line
Zombicide: Black Plague is an exciting board that every zombie theme enthusiast should have in their collection. It is absolutely fun and has got everything from spells, fantasy heroes, and evil enemies to deliver an epic zombie killing experience. If you are looking for one of the best zombie board games out there, it rarely gets any better than Zombicide: Black Plague.
PROS
Rules are clean and simple
Loads of monsters and heroes
Works for solo play and up to 12 players
Good old school Zombie slaying
CONS
Somewhat too much luck driven
Zpocalypse 2: Defend the Burbs is a Kickstarter funded exhilarating cooperative and competitive tower defense-game. It represents a sequel to the original Zpocalypse, a survival board game that's set in a post-apocalyptic wasteland.
The premise of the board game is pretty exciting. When the city got heavily bombarded, some humans have run for their lives to survive the onslaught by escaping to the urban wasteland. Out in the suburbs, humans have built a shelter which is now regularly raided and assaulted by zombies and mutates.
To survive, players have to rely on almost anything from kitchen appliances to garden tools to fend off the never ending zombie hordes.
During setup, you and your friends randomly select two survivors in addition to two starting weapons. The cards are then attached to a special board with each player leading one of the heroes. Depending on the color chosen, players get one pointer that marks the starting point or position on the action board. Some scenarios contain additional rules that modify the course of the game slightly.
Just like the original game, the updated version has simple and straightforward rules. The game involves two to five players each controlling their squad of survivors that is equipped with food, weapons, and other items. As a squad leader, you get to choose the actions your survivors should concentrate on. You get to select and prioritize daily tasks and other duties on the action tracking board. Each action brings value to the squad, yet costs resources, so picking and timing the right choice is paramount.
Similar to other zombie board games, Zpocalypse 2 features a concept of day and night. During the day, you get to assign your squad various actions such as scavenging, crafting, guarding and resting. The objective is to prepare for the night phase where the new zombies get spawned and assault your shelter.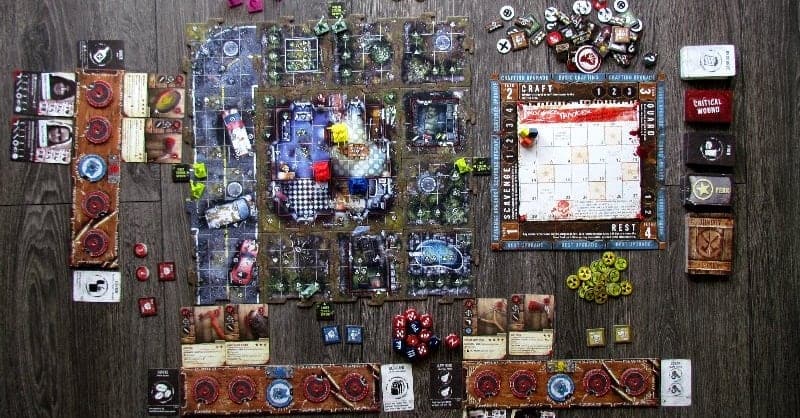 As you progress through the board game, your survivors level-up and gain new skills. Each time you kill a zombie you get to score victory points which are then used to unlock perk cards. Each card can provide a noticeable enhancement by improving the defense stats, dealing extra damage or healing the wounds.
The game also introduces a nice variety of zombies, so it does not feel too mechanical fighting them. In addition to regular zombies, the game introduces mutates which have different health, attack, movement, and special abilities.
As opposed to having your scenario path determined for you like it was in the original game, now you have the freedom to decide your own survival scenario. It is a great perk, especially for someone creative like me.
Bottom Line
Zpocalypse 2: Defend the Burbs is an epic post-apocalyptic zombie survival game that comes with some lite RPG mechanics and story telling. It features an intriguing day and night concept allowing you to prepare during the day and fight zombies during the night. If you like tower defence type games, that can be played both cooperatively or competitively – Zpocalypse 2: Defend the Burbs might be just what you are after.
PROS
Unique night and day structure

Strategic and tactical depth 

Greatly improved compared to the original
Different types of zombies with different stats
CONS
Combat may get repetitive
Takes a while to finish
Dawn of the Zeds (Third edition) is a third iteration of the board game classic that was funded via a Kickstarter campaign.
It remains to be a go to game for those who are looking for a solidly changeling warfare against zombies. It features a cooperative gameplay in a zombie apocalypse.
In Dawn of the Zeds your heroes need to defend Farmingdale in addition to its five outlying villages from zombies that keep on encroaching.
These heroes are often supported by armed and heroic civilians with little outside help. There are mad scientists, biker gangs, and civilians fighting for zombie rights.
The rules are fairly simple. All you have to do is to ensure that you defend the town of Farmingdale and its neighboring towns from zombies' onslaught.
The goal is to ensure that the Zeds do not reach the town center to cause chaos around Farmingdale, a town that has been abandoned by the government.
The gameplay is simple. Found at the center of the board is a docile hamlet of Farmingdale that's under siege from hordes of zombies that travel along four roads leading to Farmingdale. However, you must be cautious here since even if one of them succeeds to enter the town, then it's game over.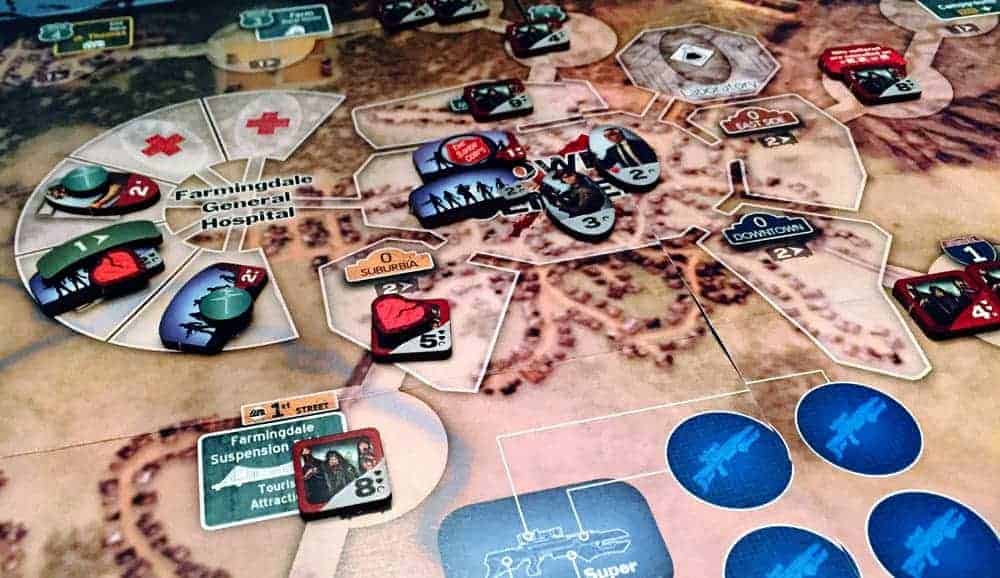 The new edition has completely raised the bar as far as the sheer number of options for playing the game and the presentation is concerned. With the latest offerings Dawn of the Zeds (Third edition) still packs a lot of action and fun.
Originally, Dawn of the Zeds (Third edition) was a solitaire game but in this third edition, the gameplay is just as much as on cooperative play. Now, 1-5 courageous individuals can spend more than 90 minutes fighting zombies and learning to come together as a group to fight a common and determined enemy.
Bottom Line
As a fan of cooperative games, Dawn of the Zeds (Third edition) makes you want to enjoy this game time and time again. If you want to enjoy a tense, multi-player, and balanced game-play, then this is the right game for you. In fact, it's turning out to be the bar upon which other zombie board games are measured.
PROS
Impressive multi-player function
The player aids are designed excellently

All locations found on the game board are well-marked

The supplies, ammo, and supplies are easily tracked on the game board
CONS
Can be quite difficult as the game has multiple complexity settings
Basic hero characters posses weak strength that doesn't do well with hand-to-hand fights
Last Night On Earth is one of the most discussed classic zombie board games of all times. The game has been out for over ten years and has proven to be a favorite option for many zombie board game enthusiasts.
Now, with the 10th Anniversary edition out, the board game features welcome updates, refreshed components, and a couple of new additions.
The artwork is intentionally photographic as the game aspires to achieve a cinematic feel, which does seem to work.
Like with most zombie board games, the plot is somewhat predictable. The game pits small-town heroes against a horde of zombies.
Unlike, however, many other zombie board games, this one features a full competitive mode where some players can play as heroes that are working together to make it through the tough night or zombies that spread over the town like a plague.
In addition, each scenario has a different board layout, player starting positions and features different themes such as rescue, simple survival, or escape.
You start the board game by dividing up to six players into two teams. One team controls the zombies and the other team controls up to four heroes. Teams then alternate turns to advance with their respective agendas and defeat the other team.
Playing for zombies you get to destroy buildings, stumble about, groan, and make attempts to not only overwhelm, but decimate humans. Humans on the other hand search for crucial items, and try their best to fend off zombies with whatever weapons they have. Sometimes, it can be a gun or a knife, but other times bare hands is all you get to survive the night.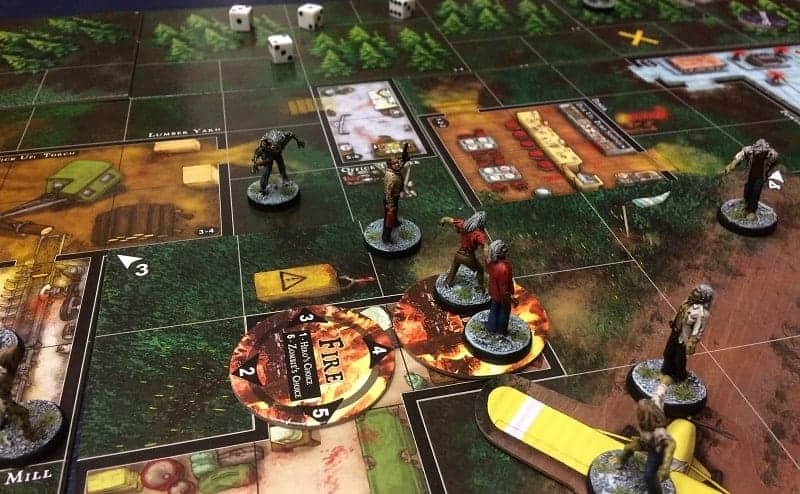 The objective for humans varies depending on the selected scenario. You may need to rescue bystanders, kill a certain number of zombies or find the gasoline or keys so that everybody can escape. For zombies it is all about eating brains, so your objective is to find and eat those tasty humans.
To determine the course of action, the board games features an awful lot of dice-rolling. And if perhaps it was a different type of game, I would consider it excessive, for a zombie-themed board game however it feels just about right. It mimics the sudden events and turns that may happen, such as zombie appearing from nowhere, tripping, losing things and so on.
Bottom Line
Last Night on Earth is a fast-paced brain-eating zombie experience that is designed to bring out a cinematic feel as the narrative unfolds. If you are looking for a classic zombie experience in its true sense, then this is one of the best zombie board game around. The fun, tension, and suspense is unavoidable in this truly epic zombie experience.
PROS
Movie theme beautifully captured
Zombie narrative is great and engaging
Loads of characters, scenarios and cards
Great replay value
CONS
Wording on some cards can be confusing
Can be easily killed
City of Horror is another classic zombie board game in our review. It was originally released in 2012 and still remains one of the most played zombie board games on the market.
The game uses classic zombie movies as a theme where hordes of zombies assault and overrun the city.
Like with most zombie board games, it is about survival, unlike most, it introduces the concept of backstabbing which makes it semi-cooperative.
The objective of the game is to survive until the daybreak when some additional help should arrive. While you are waiting for help negotiation, charming and backstabbing take place.
Sometimes, you may need to sacrifice some for the be the greater good of others to ensure you can make it through the night. But who would that be?
Each player controls a number of characters he or she is trying to shepherd through the zombie apocalypse. Characters, however, are unique and feature special abilities that can be used only once per game. This makes strategy so intriguing as you need to balance between when to use the ability, when to sacrifice the survivor and how does your character fit into the overall winning strategy.
Deciding the character to sacrifice is done using voting, so people with good negotiation skills will have an advantage. At the same time, the game compels you to make difficult, tough and unwanted decisions, and there is no other way around it.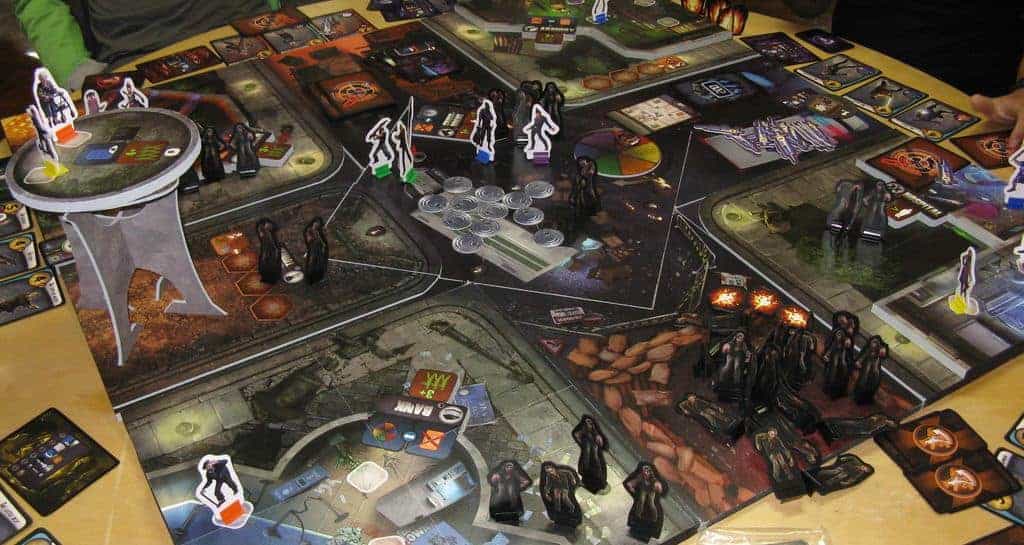 The game ends at 04:00 in the morning when the rescue helicopter comes to pick up the survivors. Yet, to get on the helicopter, your characters must possess an antidote serum to prove they are not infected. Alternatively, characters remain stranded and score no points.
At heart of City of Horror are voting and negotiation. It fills the game with interaction, collaboration, and tension. Making sacrifices is part of the winning strategy, but picking the right trade-offs and knowing how to negotiate is key to success.
Lastly, 3D component quality is great and manages to deliver a thematic feel. The board features a two-sided modular layout, which coupled with random event deck should provide you with plenty of replay value. Rules are not complex and the rulebook does a good job at walking you through them which makes it accessible to a wide range of players.
Bottom Line
City of Horror is an amazing survival-themed board game that has become a reputable classic. With loads of interaction and negotiation, the board game promises to be thrilling, riveting and entertaining and it achieves exactly that. Despite the modern competition, City of Horror still remains one of the best zombie survival board games made in the last decade.
PROS
Tense player interaction
3D board and zombies
High replay value
Can be hilarious fun
CONS
May be too much for some not to get upset
May drag and loose spark
Zombie 15 is a unique and chaotic zombie apocalypse board game where everybody above the age of 18 has been infected.
You and other players represent a small team of teenager survivals that try to make it on their own.
To escape the relentless horde of undead you need to sprint across the city to find food, shelter, meet with the other teenager survivors and learn the truth behind the murky disease!
Since Zombie 15 features real-time fighting, it requires fast-paced collaboration and decision making. Take too long and you will get overwhelmed by bloodthirsty zombies!
Although the board game is cooperative, each player makes its own decision. The role of others is to help and come up with the most optimal decision in the shortest amount of time possible. When other players make bad decisions or take too long, you may find yourself changing your approach in an instant. And most of the time, due to time pressure, those would be decisions based on a gut feel only.
The board game comes with 15 different scenarios stitched into a single storytelling campaign. Although scenarios try to be different, most of them revolve around getting from point A to point B.
The rules or gameplay are quite simple and new player friendly. Firstly, the rulebook does an excellent job of explaining things quick and simple. Besides, each scenario introduces some new rules, making it easy for non-board gamers to get involved.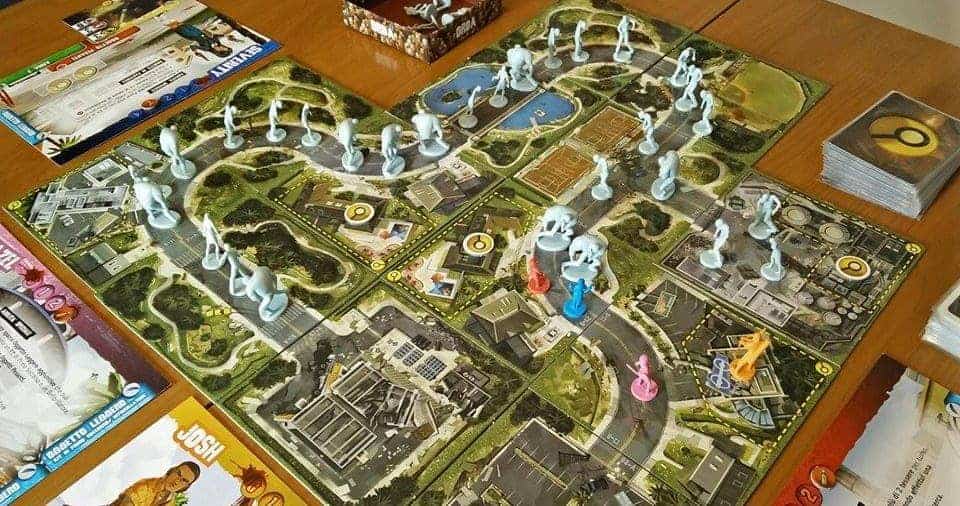 Actions, you get to choose from are limited to 5 actions – moving, fighting, searching, picking up and using.
Zombie 15 features beautiful artwork on 32 double-sided tiles. At the same time, the miniature quality leaves more to be desired.
The map takes around 15 minutes to setup and once done can take quite a space on your table. In fact, it may feature up to a hundred zombies on a map, depending on a scenario. Make sure you have enough space for it.
Bottom Line
Zombie 15 is a beautiful adrenaline-pumping board game that almost every board game enthusiastic and even newcomers need to try out. The tension of the game is unreal – it urges the players to communicate in a prompt and effective manner. The game only takes 15 minutes to play, so if you are after a light, quick, tense and hectic zombie tabletop game, Zombie 15 is worth you taking a look at it.
PROS
Great feeling of suspense
Component quality
High replay value
Soundtracks in place of a classic timer!
Loads of interaction and cooperation
CONS
Not for people who can't take pressure
After the Virus is a highly-entertaining cooperative deck-building card game.
The story is driven by 15 different scenarios stitched together to provide a narrative experience.
Each scenario can be played on its own, yet if you want that extra bit of theme and story, playing them in order is the way to go.
According to the story, 90% of the population got wiped by a virus with only a handful making it through. The ones that did have transformed into murderous zombies, while the rest are left defenseless and weak searching for shelter.
It is now up to you to rescue as many as you can while preparing your arsenal of arms to hold off the brain-eating zombies.
Like most deck-building card games, in After the Virus you want your deck to host the best cards and little to no bad cards. In reality, this is not achievable, yet if you have enough quality cards in your deck to counter the zombie influx, you should be able to balance it out.
Characters are unique regarding their special abilities and cards that form the starting deck. It adds a nice flavor and a little bit of strategy variety into the gameplay.
Each round begins by drawing a total of five cards from your deck. You may draw weapons, equipment, traps, people or zombies. When you draw zombie cards, they are immediately placed in front of the player to deal with. The objective is to try and resolve all zombies that have been played with the cards you already have in your hands. Any unresolved zombies can cause injury and potentially kill you.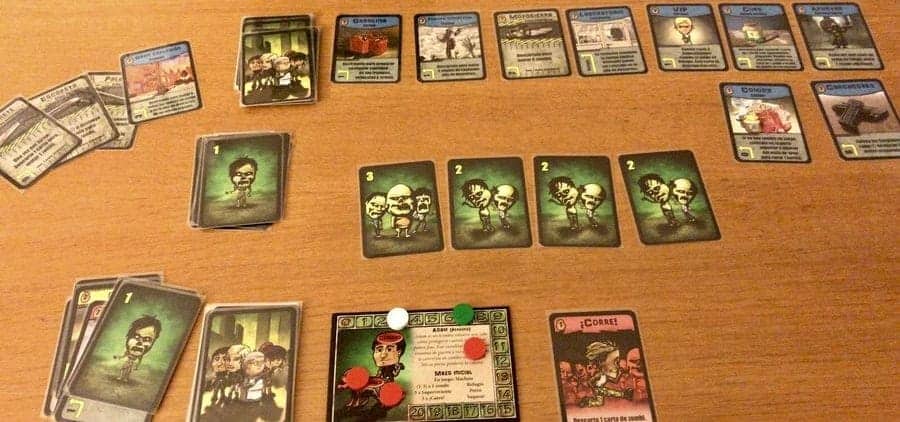 Disposing zombies can be done in two different ways, and the challenge is to balance them out. First, you can kill them, in which case they return to the pile of cards they came from. Alternatively, if you can only discard, they are placed into your discard deck, which pollutes your hand.
As you progress in the game, zombies become more  powerful and harder to beat. This puts a great focus on building the deck with capable cards early on in the game.
Your characters can only take 2 wounds before they die, which is not a lot, especially in the second part of the game. This makes upfront planning and deck building paramount to surviving 20 rounds after which you make it through and win the game.
Bottom Line
After the Virus is an easy zombie card game that can be enjoyed with up to three players, but is best played solo. The game is very compact and works great on the go. With only 30 cards or so, it offers great decision making, strategic variety and plenty of chuckles and giggles. If you are looking for a fairly simple deck building zombie game that you can enjoy solo and occasionally with other, After the Virus is a great zombie card game to consider.
PROS
Easy to teach and play with non board gamers
Loads of action in a short amount of time
Can be played solo
Modifyable difficulty
CONS
Quirky artwork
No way to recover if you had a poor start
Tiny Epic Zombies continues the trend of successful board game campaigns funded through the Kickstarter attracting 40 times of the original pledged amount.
It is a fast-paced zombie survival board game that supports both cooperative and competitive modes of play.
In fact, there are five different ways to play the game as players can freely choose their side and whether they want to be part of the team or not.
The choices are: team vs. game controlled zombies, team vs.player controlled zombies, free for all vs. game controlled zombies, free for all vs. player controlled zombies or simply solo.
Tiny Epic Zombies takes place in a mall that's been devastated by zombies. Lying in the middle is the courtyard that acts as your safe space; one which the zombies are attempting to attack. The courtyard is shielded by a barricade that you can slowly increase in strength as the game progresses.
The mall that surrounds the courtyard is made up of 8 double-sided tiles that are randomly placed, making each game's layout different. While the sides have different art, the special events and abilities that you gain from the room in each store change slightly.
For humans to win, they require to complete three scenario objectives. Alternatively, for zombies, they must either kill all survivors or gain control of the Echo Ridge's courtyard.
Playing as humans, you will find yourself always on the run scorching for weapons to fight zombies and progress towards achieving one of the objectives. Turns typically consist of three move actions and based on where you end up, additional actions may get triggered. For example, if you end up sharing a room with a zombie, you can fight it, if you end up in an adjacent room, you can shoot it.
After completing three movements, human players can search the room and find valuable items, such as weapons, to help them fight zombies. At times, you find more zombies, rather than weapons, so you never know.
Making your turns efficient and managing the zombie count is the key to winning the game. You eventually want to move and attack as efficiently as possible since the time before the supplies run out is limited.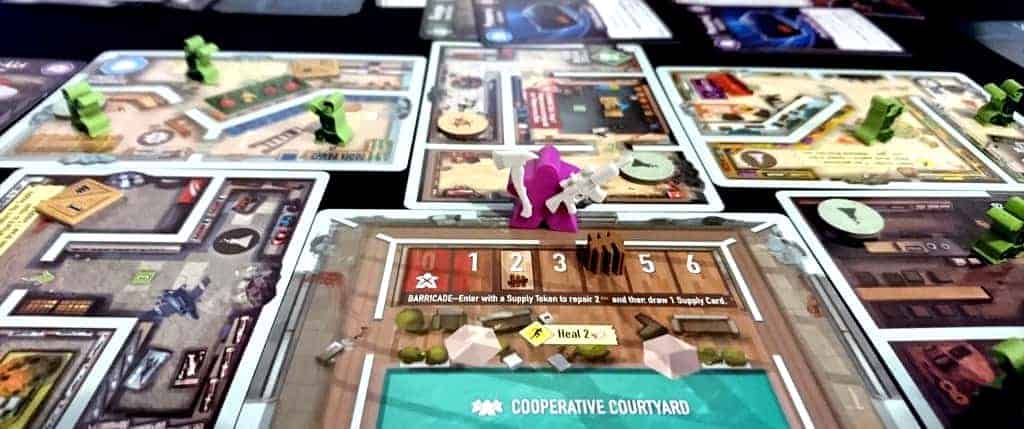 Playing for zombies, you get to control all of them. Your objective is to place and move zombies around such that human players get overwhelmed or the courtyard gets overrun.
Whichever side you choose to play for, the rules are straightforward and easy to learn. It is also visually appealing as both the artworks and miniatures look great. In fact, the miniatures are actually called ITEMeeples (see below) which originated in another board game Tiny Epic Quest. They add a certain character and pop to the overall visual appeal of the game. 
Bottom Line
Tiny Epic Zombies is a fast paced, easy to learn board game that is full of action and fun. It has five different ways to play the game, but the team vs. player controlled zombies packs the most entertainment and player interaction. The board game can be equally enjoyed by anyone 10 years and older and with any level of experience in board games. If you are looking for on the best zombie survival board games for getaway, Tiny Epic Zombies offers a great fit.
PROS
Compact board game
Quick and easy to setup
Multiple play modes
Cool miniatures
CONS
Playing for zombies is not as fun as for humans
Walking Dead: All Out War is head-to-head survival miniature encounter set in Georgian countryside. The game is based on a highly popular The Walking Dead series.
The board game design is highly cinematic and features your favorite characters from the series such as Shane, Rick, Michonne, and others. Each character has unique attributes, starting items and abilities which, if are used wisely, can provide a great tactical advantage when needed.
The miniatures are highly expressive, detailed and are of a top notch quality. If you like painting, they are set to make your day.
Each player gets to represent a group of survivors that are pitted against each other in a bitter but entertaining fight for supplies.
In addition, the Walking Dead: All Out War features Walkers who are very noise sensitive, hence if you are not quiet enough in whatever you do, you could soon see them marching towards you. Zombies walk in a straight line, so if there is any obstacle on the way (e.g., barricade or a car), they sure to wander into it. At the same time, this brainless zombie instinct can be used as a tactical advantage by luring zombies into other survivor groups to initiate combat.
To recreate the authentic atmosphere of the series, the base game is set around Atlanta and the surrounding locations and comes with thematic items included in the box such as a gaming mat, supplies, barricades, and abandoned cars.
To help you move characters around, the board game comes with a measuring stick that allows you to calculate the travel distance. This is typical for most tabletop war games.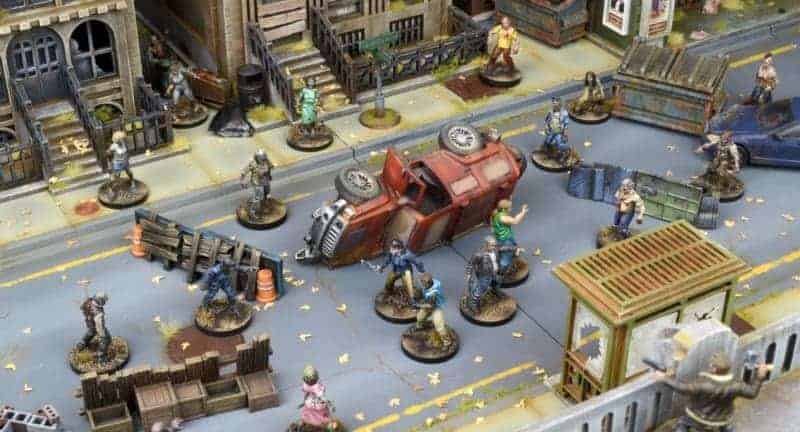 Combat is resolved using dice, hence there is an element of luck involved. Winning the combat knocks zombies down, yet they can still get up later in the process. If you do, however, want to eliminate zombies from the board game, a critical hit is required.
One of the highlights of the board is two different sets of rulebooks. One is intended for newcomers to learn the basic rules of the game and help them hit the ground running early. The other book is tailored for advanced audience and covers tricky areas, complex cases and mechanics.
Bottom Line
The Walking Dead: All Out War is a perfect war board game adaptation of the TV series. The board game features amazingly detailed miniatures and components that are dripping with theme. If you are looking for a tabletop war game with zombies instead of troops, you may have just found the best example around.
PROS
Quality components
Very balanced gameplay
Crazy fun
50+ expansions

Engaging style of play
CONS
Not new player friendly
Top Rated Zombie Tabletop Shootout – Conclusion
There are hundreds of zombie board games out there that are a perfect pass time with your friends. There's is something special about ghosts, zombies, and other nightmares that promise to be a great fit for huddling with your group of friends.
If you are zombie board game enthusiast, gather your group of friends, dim the lights, and get ready to experience instances of terror that only a board game can deliver. As discussed above, there are many zombie board games for you to enjoy, though the ones mentioned above appear to be the best.
One of the reasons as to why the above –especially Tiny Epic Zombies, Last Night On Earth, Zombicide: Black Plague, and The Walking Dead: All Out War –  are the best are due to simple rules of play in addition to excellent graphic designs and ease-of-play that accompanies some of the above games.
All in all, the above board games are fit for a lazy afternoon with a group of friends or alone if you so wish. They can all be enjoyed either alone or with a group of friends. See what it feels like to escape while avoiding being eaten alive by bloodthirsty zombies.
Frequently Asked Questions
What are ITEMeeples?
ITEMeeples are read as Item Meeples. They were first introduced as part of the Tiny Epic Quest release and represent the standard meeples but with items in their hands. As part of the original game meeples were able to hold shields, swords, boomerangs, staff and other thematic items.
Due to the increased interest in the concept, ITEMeeples have seen further expansion into other Tiny Epic series board games. 
Why Zombie theme became popular?
You must have noticed (it is hard not to) that the zombie theme has invaded all areas of our life and predominantly entertainment. You can find zombies everywhere now, TV series, video games, magazines, general merchandise, and board games.
According to Simon Pegg, zombies are extremely popular because they represent our biggest fear of all which is death.
As part of the significant influences in the recent development of zombie-themed entertainment, there are a couple to note. Amongst many, the most successful were The Walking Dead series, Resident Evil video games, and movies as well as the Twilight Saga.
What is a Deck Building Game?
Deck building is card collection mechanism where the objective is to build a deck consisting of the card you want it to have. That deck is then used throughout the game and instead of drawing, playing and discarding new cards every time, players get to recycle their deck.
Players add cards to their pool from the general deck, which is done randomly, most of the time. Some card can be added to the deck via other means, such as from other players or other decks.
There is also a mechanism to remove or discard the cards that players do not see as valuable to make sure the deck content only contains the most relevant, powerful and desired cards.