The Best Trivia Board Games – Our Top Picks
Trivial Pursuit: Master Edition is a board game that has seen many variations over its 40-year long history. It has since sold over 100 million copies and has generated over a billion dollars in sales.
The concept is simple. Every player has a circular piece, which contains six pie-shaped slots. The pie pieces that fill these slots are colored to signify the category of questions answered to collect it.
The goal is to collect all six pieces of the pie by providing answers for different color-coded type questions and progress towards your final destination – the pie shape centered on the board.
To move in any direction around the circular, colored track, players must roll a die. The color of the space the player lands on relates to a category of the question to be asked. Six of these colored spaces allow the player to gain a pie piece to work towards winning. Once all six pieces are collected, the player may then begin to move towards the center via a number of questions, which when reached crowns the player the winner.
Trivial Pursuit offers plenty of variety. From the questions asked to the versions of the game out there, it's sure to keep the player hooked and ready to go for round two straight after.
The timeless classic and the godfather of the trivia genre is always going to be a game for the family get-together, that's why I had to include it on this list. Whether you're a teen or an older individual, the concept of this game will draw you in and have you stuck playing for hours.
PROS
A game that brings the family together
Timeless classic
Simple concept, endless fun
CONS
Not suitable for small children
Questions often only US focused
Component quality feels cheap
Logo, the winner of 2012's Årets Spil Best Adult Game is a game about answering trivia questions about well-known logos in order to make it to the center of the spiral board.
The gameplay is easy to grasp, with the rules being much the same.
Players move their pieces around the colored spiral-shaped board, answering the questions on the color-coded cards along the way.
The questions are drawn from one of 400 colored cards, each with four separate questions.
It is important to remember that Logo is a game with many versions. Depending on your region or country, these versions may differ to allow for a country-specific adaptation of the board game.
The game, which is best played with a small group of friends is amazingly fun. With 1600 questions in total, you are set for hours of endless fun and good times.
Logo is a game for people who know and have an interest in brands and their logos. This board game is a cult classic and surely one for the collection.
PROS
Fantastic replayability
The rules are clear and easy to follow
Many versions in different countries
CONS
The pawns are cheap plastic
Easy, well-known brands fill the majority
Wit's End is the winner of the 2001 Australian Games Association for Game of the Year Wit's End.
The board game takes place on an obscure square board with four separate rings/tracks.
Similar to other trivia board games, players move along the board and answer questions from a pool of 400 cards.
Certain sections along the track allow the player if answered correctly, to progress to the next stage. There are four stages in total.
The game, playable with 2-6 people but best with 3, is in its essence a simple race to the center. But the questions, which can be related to anything from slogans to definitions, is where it can be challenging.
Each game, depending on the number of players, would take an average of 1 hour to complete.
I really enjoyed playing Wit's End with a group of my friends for a few hours. Thanks to the relatively fast game time, there's no need to fret about losing. And although the box says 6 people can play, it works best with 5 or less.
I would not recommend this game for kids, it's far too complex. And although the rules are easy enough to understand, the game itself can certainly be challenging and is better for groups of similarly aged people.
PROS
Original board layout
Great variety of questions
High-quality feeling components
Challenging
CONS
Not suitable for children under 13
Gets repetitive after a few games
Wits & Wagers
is a game that has won
many awards
, too many for me to list.
The concept of the game is that you have to bet on answers to questions posed by either you answer or other players.
If you've played poker before, the concept of winning is similar. A question is asked and all players write down their answers, placing them on the betting board face up.
Once all the answers are on the board, players place their bets on what they think the correct answer is.
The answer closest to the correct one pays those who bet correctly depending on the odds shown on the board.
This does indeed mean that you can be terrible at trivia but still win, it's all about placing your bets right.
The betting mechanic sets it apart from other board games, giving the game a unique twist. This game can be played in just 25 minutes, ideal for those in a rush.
There are multiple strategies you can employ to win the game. You can play the villain by purposely putting the wrong answer down and betting on the correct one, given you know the correct answer. Alternatively, you can give yourself full confidence by betting on yourself.
Wits & Wagers is a fantastic game for all the family, with a good mix of easy and hard questions it makes for great variety. A short and sweet ode to the trivia genre of board games with a casino twist.
PROS
Many ways to win
Unique within its niche
You don't need to be good at trivia to win
Quick to play
CONS
Possibly endorses gambling
Pictopia: Disney Edition is a board game with many faces. Like with most trivia tabletop games out there, the first to the finish wins. But Pictopia uses pictures along with questions to give the well-known trivia concept a unique visual twist.
The layout of the board itself is a snake-like shape detailed with small graphics on each stage to give an indication of which card should be played during this turn.
There are two sides to each card. One side displays four pictures, whereas the other has the questions related to the picture.
Pictures act as clues for questions and are designed to help players guess what the questions might be.
Players can also answer questions about their own opinions, these are called player answer cards. Other players need to guess, for example, which character is their favorite in order to progress. A competitive feature to show how much you know about your friends.
This version of the game is aimed at Disney fans, in fact, it sits amongst the best Disney trivia board games out there. The thing I love about Pictopia is the use of visual representation in answering questions. It makes the game easier for smaller children aged six and up, but older people may find this game too easy, or somewhat boring.
Another great product from Disney for the avid fans out there who want to test their knowledge in the Disney universe. It offers a unique visual trivia experience with fun, competitive features that are well suited for families and kids.
The game also comes wearing Harry Potter, Marvel, and Star Wars themes, see below.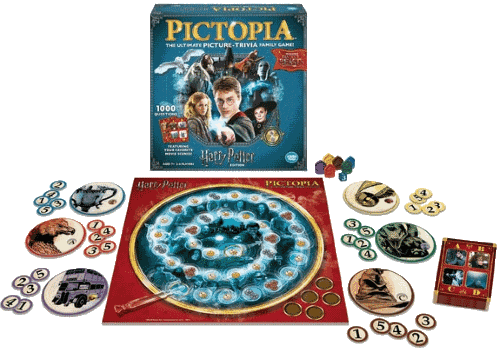 Showcase your knowledge of J.K Rowling's wizarding world when you encounter one thousand picture trivia questions featuring the beloved characters, extraordinary places, magical creatures, and enchanted objects from the epic Harry Potter movies.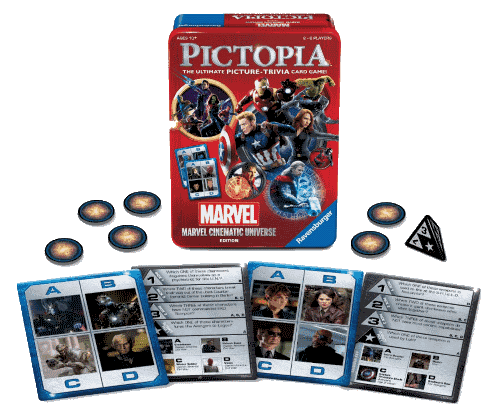 Test your knowledge of your favorite Marvel movies with two hundred questions! Answer trivia about Earth's Mightiest Heroes, the greatest Guardians of the Galaxy, and all Realms in between!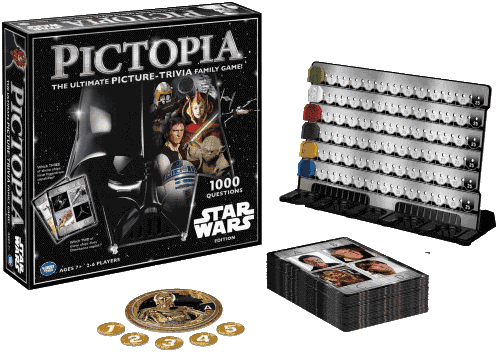 Prove whether you are a Padawan or Jedi Master when your knowledge of Star Wars is tested with 1,000 questions on the iconic planets, ships, villains, and heroes from a galaxy far, far away.
PROS
Use of imagery for questions
Mix of player and franchise-based questions
Great for children aged 6 and up
A low-pressure trivia experience
CONS
Some may find questions too easy
For Disney fans only
Game of Wolf is a fairly new fast-paced trivia game where your friend can quickly become your enemy. You can choose to work together with other players or go at it alone in order to win.
In the game player take on the roles of "wolves". At the start of each round, the player answering can choose to go alone or select other players to be part of a group.
If the player chooses to go alone, he or she has a chance at scoring double points that round. The additional reward is enticing, but since you are on your own, the challenge goes up a notch too.
At the end of the game, you are sure to find out who can and cannot be trusted, but do not get too hung up on it. You are supposed to have fun, after all.
The game does not include a board to play on, or dice to roll with, it's entirely based on question cards. Giving players the freedom to mix things up. The cards are a variety of pictures and worded cards consisting of multiple-choice questions relating to anything from TV to Landmarks.
The gameplay feels fluid and flows naturally around a group of friends. Players outwit, betray and work together, all in order to win the game.
The questions included in the game are not for younger kids, and would fit better anyone from 13 and up.
The Game of Wolf, is a competitive board game with a twist. Choose to team up or if you think you can win it alone, be the lone wolf. In this game, you'll have to use wits, deceit, and trust to be crowned the winner.
PROS
Choose 'lone wolf' or team play
High-quality components
Great mix of picture and text questions
Game time can be as little as 30 minutes
CONS
Not suitable for children under 13
May become repetitive after a few games
Scene it is a trivia about movies, TV and facts surrounding them. Players move around the board by answering movie related questions. Some are broad, but luckily there's also plenty of relatively specific ones too.
The gameplay mechanics are simple, as you might expect from most trivia type games. But there's a twist, players rolling to move can roll two specific categories where a movie clip is played.
Once the clip has played, you have to answer questions relating to it. It makes for a very interactive playthrough.
The board consists of three circular shaped boards put together to create a single track. There are no obstacles or out of place stages, so this game is fast-paced and easy to follow. Playing time is around 30 minutes but can certainly be finished faster, depending on the number of players.
This is a great board game for all the family to play, and given that there's plenty of variety depending upon the version you are looking to buy, there's definitely room for everyone.
The only thing that's important to note is that you'll need a DVD player in order to play the game to its full extent. If you do, you are all set to experience one of the best movie and TV show trivia board games out there.
Scene it, the game that pushes you to answer questions about your favorite, and least favorite movies. Fun for all ages, this fast and simple game is sure to have you hooked.
PROS
Use of video clips
Hosts up to 20 players
Fast-paced
CONS
DVD player required for clips
Original may now be dated
Say Anything, winner of 2008 Origins Awards Best Children's, Family or Party Game Winner, is a game less about the questions and more about the player answers. Players bet on each other's answers, depending on which they like the best. Perfect for parties.
The gameplay is simple. A player draws a card and asks a question that requires an opinion in response. Each player writes down their answer and all of them must show their answers at the same time.
Players then choose their favorite response using two betting chips, which the player can split if they want to. The scoring is a points-based system where you gain a point for each chip placed on the answer you chose, up to a maximum of three per round.
The winner is the person with the most points at the end. To keep playtime under 30 minutes, there are limits (depending on the number of players) to the number of questions each player can ask.
This game is made for parties and is good fun around a group of friends. The uniqueness of this party game, given that it's focussed on player answers and acting with the crowd, is extremely refreshing.
Say Anything is a game you'll want to bring along to your next party and who knows, you might even learn a thing or two about a friend which you didn't know before. Best played with a large group of friends, Say Anything puts you and your friends head to head to give the best answers possible.
PROS
Helps getting to know people
Possible to play anywhere
Short and sweet game rounds
CONS
Game becomes repetitive very quickly
Not a game for kids who can't write
Not a relaxing board game
Timeline 3: Events, is a game about historical trivia and winner of the 2012 Årets Spel Best Adult Game award.
Players, in turn, place cards down on the table to win with an empty hand, guessing the dates of historical events in chronological order.
The gameplay is fun and simple. All players start with an equal amount of cards in their hand, on these cards are historical events, represented by an image and a piece of text. Hidden on these cards are the dates.
Players must work against each other to guess from their cards, the next chronologically accurate event. If the player gets it wrong, they have to take another card from the deck, building a larger hand and thus falling behind.
The idea of the game is to build, as the title states, a timeline. Wrong cards are removed from the timeline and placed at the bottom of the deck, leaving you in the end with a perfect timeline.
Timeline 3: Events is fun and easy enough for anyone who enjoys history as the events depicted are often well known, it's the dates that are harder to guess. Taking as little as 15 minutes to play, the game really can be played anywhere, all you need is the deck of cards.
The game is mostly aimed at an adult audience, as kids under 13 may have trouble with the dates and may find it quite boring or repetitive. But, the board game is a must-have for your family camping trip or weekly game night. If you love historical events, this is one of the best history trivia board games we have come across. In fact, the game has also made it to our top 10 Christmas board games review if you are planning to spend that day with your family or friends.
In addition, the Timeline family has many other top trivia board games on offer with different themes. Check more excellent options below:
PROS
Extremely portable
15-minute game time
Durable and quality cards
CONS
Specifically for people who enjoy history
Becomes repetitive after 2-3 rounds
Based around a fantastic rainbow board, Children's Bible Trivia is a seven category board game for kids aged six and up. The game is an assisted learning platform to quiz your kids about the bible.
Playing through the game is simple. The game includes a huge variety of questions in seven related categories such as the Old Testament, New Testament, Prophets, Miracles, and more.
As the game is completed in stages, it is won by the first player to reach the top of the rainbow, completing all seven categories plus a bonus question from a category of choice. The questions come in the form of cards, picked from a deck of 2100.
This game is for people with an interest in the bible and the niche surrounding it. Being aimed at children from the age of 6, this bible trivia is more of a learning resource than a game.
The huge number of question cards make every game different due to huge variety, teaching your kids something new every time and constantly testing their knowledge.
You're probably not going to see a group of adults playing this. Children's Bible Trivia is a board game you and your kids might play on a Sunday at church, or at home with their friends. With thousands of question cards, it's sure to make hours of educational fun.
PROS
Educates children on the subject
Huge variety of question cards
Very short game time
Not easily repetitive
CONS
Bland looking question cards
Top Rated Trivia Board Game Wrap Up
And so, you will now have found some fun trivia board games for you, your family, or friends to play.
Trivia-based board games are widely loved and everyone has their own favorites, and I do too. Here are a few recommendations from our list if you're an avid Trivia lover.
My personal favorites include The Game of Wolf, thanks to its unique playstyle filled with betrayal. I also enjoy Timeline because of its ability to be played anywhere. While there are many great trivia board games out there, these two stand out to me.
To tell the truth, if they are on this list of trivia board games, they are definitely worth playing. But that does not mean they will be right for you. That's why we've made it easy to see the pros and cons of each.
Now get out there and play some of the best-rated and most popular trivia board games on the market, and most importantly, have fun.
Frequently Asked Questions
What are trivia games?
Trivia games are board games where other players or the game itself asks questions. Answering those questions correctly typically awards points that allow you to win the game.
Can I play Trivial Pursuit online?
Yes, you definitely can. Despite the game being one of the best trivia games around, the online experience may differ. To play the game online, you can visit Pogo.
How many Trivial Pursuit games are there?
Being one of the most popular trivia board games in the world, over 20 different English versions of the game were released.
Is Trivia good for your brain?
Trivia type games are most beneficial for your memory. They keep our sensors active and our body engaged.